When I moved into my current house a few years ago, we did away with the bathtub in the guest bedroom's bathroom (against my strong objections). The idea was so if the other bathrooms were already in use, or if a guest was over, this shower could be used without the "hassle" of getting into a bathtub.
Of course, I ended up being right and in the years since the guest bathroom was never used. I love a good soak, so I set out to restore the guest bathroom's bathtub and creating some sort of spa or self-care room for myself. Yes, this is a very random post. Not sponsored in any way, I just love talking about my bathtub.
Feasibility
I asked the contractor who renovated our house how possible was it to convert the shower area back into a bathtub. The shower area already had a glass panel and door, so those had to be removed to make way. This cost S$300.
The shower also needed to be converted into a three-way valve. It was originally a shower head and a rain shower, but there needed to be a valve pointing downwards to the bathtub. This cost S$350, using the contractor's plumber who also sourced the tap.
Bathtub
I found the aptly named "Singapore Bathtubs" company via a Google Search, and they promptly replied me via WhatsApp to schedule a free consultation. They came by to measure the working area and talk out some details about the type of bathtub I wanted.
While I saw they had bathtubs with jacuzzi and waterfall functions, I mentioned I intended to use bath bombs and was advised to choose between the extra functions and bath bombs as the ingredients from the bath bombs may clog up the mechanism and might be hard to clean. I chose to go simple and enjoy my bath bombs.
The length and width of the bathtub simply works on what available space there is, as it can be quite heavily customized to the available space. So, height was the main consideration here. A higher bathtub is always welcome because more of the body can be submerged. Unfortunately, there is a ledge surrounding the available space for my case. If the bathtub is higher than the ledge, water will spill over and get stuck. The cost to raise the ledge was obscenely high in the thousands and was therefore decided against.
In total, the decided dimensions were 160cm in length, 74cm in width, and 52cm in height. It came with a headrest. Together with installation, it cost S$2090 and was ready a month later.
Lush Store
While I was in Australia, I found that the Lush stores in Singapore are actually extremely expensive. They are twice or more the cost in other countries such as Australia and the United Kingdom. Something about how we import the products from Japan.
I bought half a suitcase of bath bombs from Australia and a great many other Lush products such as soap bars and sprays from the Lush store in Vivo City, whose staff had really great recommendations.
With Lush products being cheaper overseas, I also checked the Lush UK webstore and found a bunch of really good flavors that were out of stock or unavailable in Singapore. Soaps are also available in much larger sizes there. So, I bought more soaps from the online UK store and shipped them through BuyAndShip.
Overall, I had so many Lush products inside the bathroom it smelled just like a Lush store. The smell permeated throughout the entire house for quite a few days. Perfect.
Personally, my own experimentation through a wide assortment of Lush products has allowed me to find my current favorite soaps:
And my favorite bath bombs: Intergalactic, Unicorn Poop, and Goddess. Special shout out to Groovy Kind of Love, which I give as "gifts" to my friends because… It makes quite the special surprise.
Ikea Run
To house all the Lush soaps and shower curtain, I turned to Ikea. I bought the Nyckeln shower curtain and the Botaren shower curtain rod from the Ikea online store, only to realize I forgot to buy the rings to attach the shower curtains to the rod. Not wanting to wait, I headed down to Ikea to do a bit of shopping and ended up buying a lot more things.
This included the Hassjon shower curtain rings, a random assortment of trays for the bath bombs, a bunch of plants and potpourri to beautify the area and other random decorations like the Eftertanka hourglass and Grimstorp mirror (discontinued).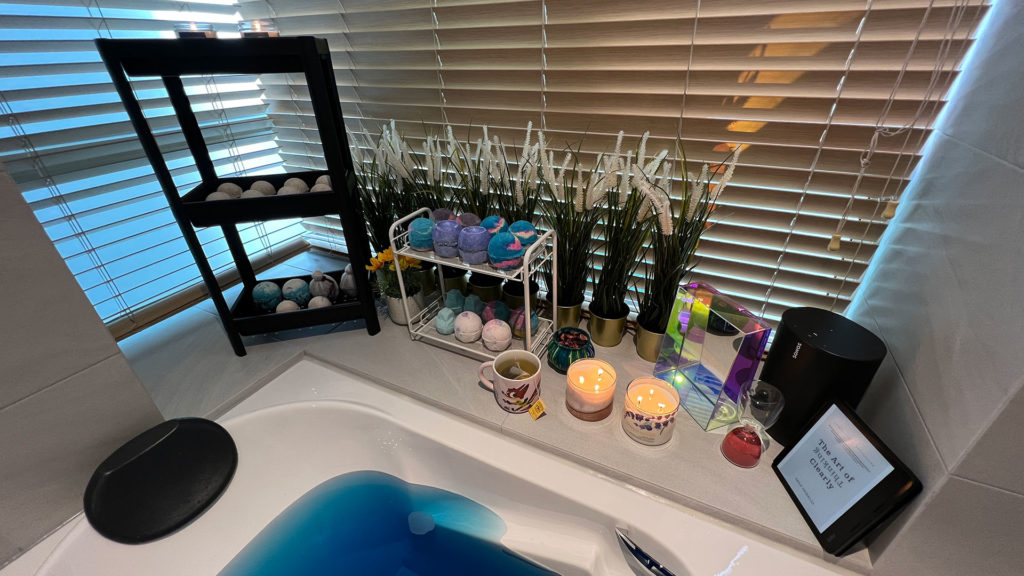 Miscellaneous Items
I bought a bunch of different scented candles from Bath and Body Works, which I've found to have the best scents. Let all the scents fight it out with the Lush soaps!
Also dragged in the Sonos Move for music and ambience because of its sheer power and IP56 water resistant rating, the Rakuten Kobo Sage for reading all the free books from our National Library Board on a paperwhite screen (and also because it's IPX8 waterproof). Topped off with some of my favorite teas from TWG.
Conclusion
Overall, I'm really happy with how my self-care room turned out. I think it's quite important to pamper oneself in a while and to leave the body feeling refreshed. It definitely was quite a lot of work to set up, but I'm glad to have a room to destress for whenever I need it.
Cost-wise, I had:
Remove Shower Door: $300
Replace Tap: $350
Bathtub: $2090
Ballpark for other Ikea items: $150
Ballpark for the Lush items: $1000
For an estimated total of just below S$4000, not counting more miscellaneous purchases like the scented candles, Rakuten Kobo, and Sonos Move.